CHEERS Towards An Environmentally Friendly Beverage Industry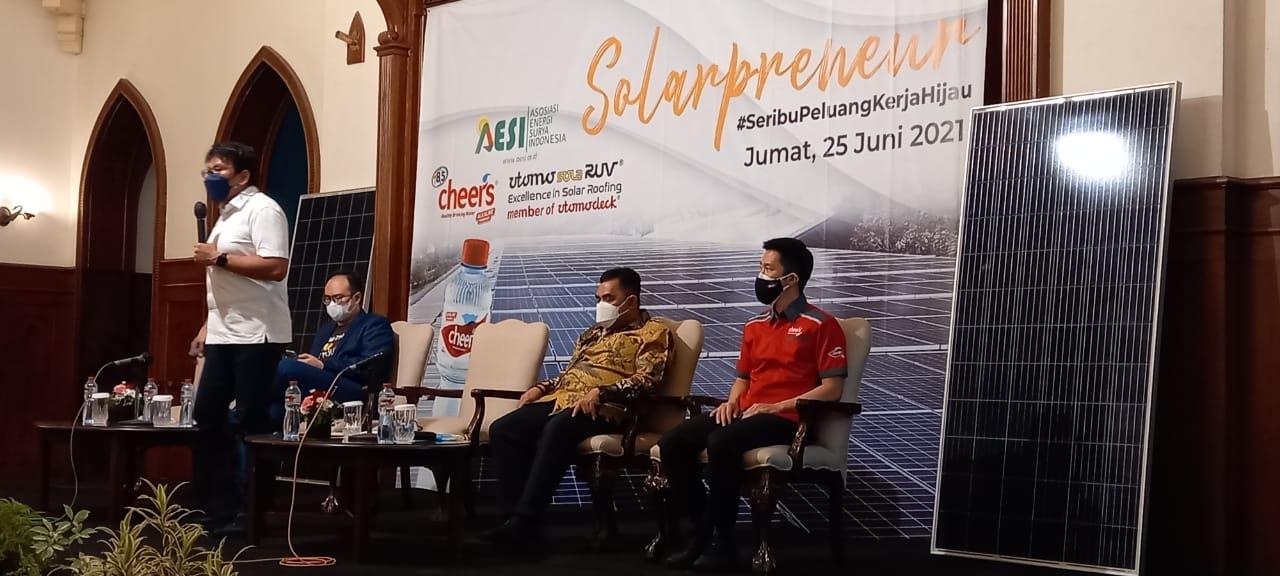 PT Atlantic Biruraya as a producer of CHEERS, High pH Bottled Drinking Water, is committed to becoming a more environmentally friendly industry. The tangible manifestation of this commitment is the recycheers program (pick up and recycle plastic packaging waste), periodic tree planting in water catchment areas, production of packaging and filling drinks under one roof, and most recently the utilization of PLTS (Solar Power Plant)
The PLTS installation itself is carried out in the Pandaan factory area, East Java with a capacity of 0.5 megawatt peak (mWp). This step makes CHEERS a pioneer in beverage manufacturers in East Java that utilize PLTS Rooftops.
Edwin Hendriadi as Managing Director of PT Atlantic Biruraya (CHEERS) said that this step is a tangible manifestation of CHEERS to support the government's program with the use of renewable energy (ET) as well as an effort to reduce energy consumption (electricity).
"Besides that, this is also a form of our commitment to the environment and our earth. Where the installation of solar panels will certainly reduce the resulting carbon emissions. In addition to saving electricity consumption, the use of PLTS also helps reduce carbon emissions by almost 40 tons per month, "explained Edwin at the Solarpreneur press conference at Hotel Majapahit (25/6/2021).
The choice of solar panels themselves as an energy source is not without reason. Edwin added that solar panels were chosen because they are an energy source with efficient production costs and almost no pollution.
The utilization of PLTS by CHEERS itself cannot be separated from the collaboration with the Indonesian Solar Energy Association (AESI). Through the Solarpreneur program, AESI targets 1000 business actors to be able to take part in utilizing solar panels as an energy source.
If the PLTS ecosystem is getting stronger, it will support the National Movement for a Million Solar Roofs (GNSSA) which was launched in 2017 by the Ministry of Energy and Mineral Resources. In the National Energy Policy (KEN) the government targets the use of RE by 23 percent of the total primary energy mix by 2025. PLTS is expected to contribute 14 percent or 6.4 GW of the total capacity of 45 GW of power generation.
Edwin added, "This is just the first step of our group of companies. In addition to this one location, we are committed to adding ET in the form of solar energy in various locations of factories, offices, and properties in order to reach a capacity of 10 mWp in the near future. Big steps start from small first, all start from yourself. Cheers Healthy Water wants to set a positive example for our industry.''
Meanwhile, the Head of the East Java ESDM Service, Drajad Irawan, said that East Java really appreciates the socialization of Solapreneur. ''This is in line with the East Java program to increase renewable energy. The hope can be used as energy for the future,'' he explained.
Currently, East Java itself is running a rooftop PLTS program as a regional energy mix development. The program runs from 2020-2021. Rooftop PLTS has been installed at several points, such as official offices in East Java, hospitals and Islamic boarding schools.